The Bajlum Wind Farm
Facts
Onshore / Offshore
Onshore
Vattenfall ownership share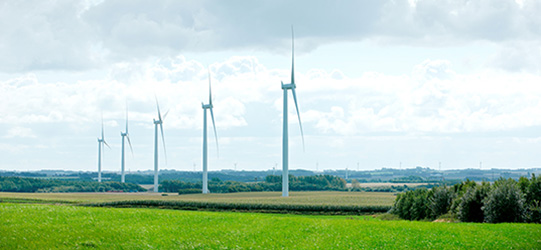 The Bajlum Wind Farm has been welcomed by the Skive Municipality in Jutland for helping the community reducing its carbon dioxide emissions to zero in the future.
First onshore wind farm
The Bajlum Wind Farm is Vattenfall Wind powers first onshore wind farm in Denmark to use the Direct Drive turbine technology. Five Siemens 3 MW Direct Drive turbines have been erected in the scenic farmland outside the Bajlum village in the Province of Salling. Here the wind blows almost constantly because the peninsula-like province is surrounded by the waters of the Limfjord to the west, east and to the north.
Ambitious energy plan
Here the municipality of Skive has an ambitious plan to reduce carbon dioxide emissions to zero by the year 2029, and more wind farms are going to help them achieve the goal. The energy and climate strategy includes a special chapter concerning renewable wind energy. In 2008 Skive was the first to be nominated as Danish Energy City.
Direct drive expectations
The Siemens Direct Drive turbine has no gear and therefore fewer components than conventional turbines. The nacelle housing the generating components is also smaller without the gearbox. Size and fewer components makes the nacelle lighter and easier to transport and in the end the direct drive turbine is expected to be more economical to maintain during its lifetime.
More information (links open in new window)