DanTysk – climate-friendly electricity from the German North Sea
Facts
Onshore / Offshore
Offshore
Vattenfall ownership share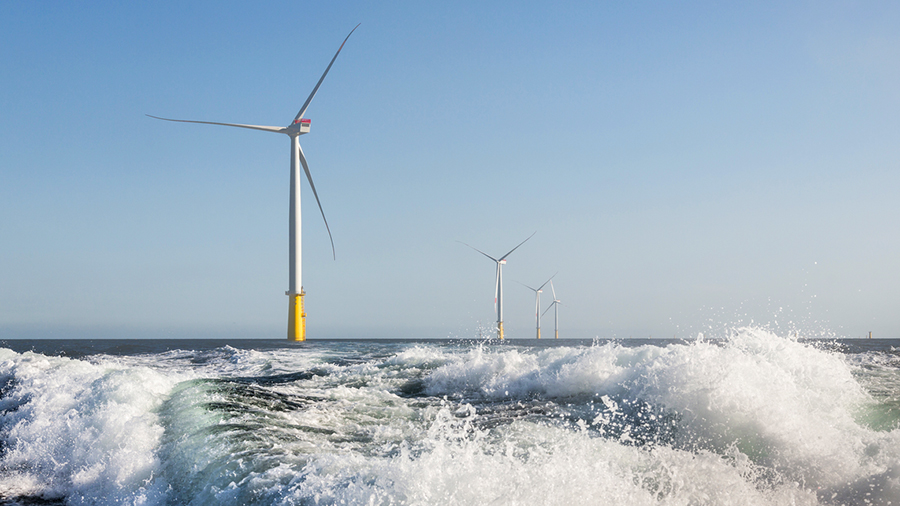 The DanTysk offshore wind farm, west of the island of Sylt and right next the border with Denmark, is one of the first large marine wind farms built in the German North Sea.
Facts about the DanTysk offshore wind farm
The entire wind farm covers an area of 70 square kilometers and is located 70 km off the North Sea island of Sylt. Due to the curvature of the earth, the wind farm is not visible from the island. The wind farm comprises 80 wind turbines of 3.6 MW from Siemens. With a total output of 288 megawatts, up to 400,000 households can be supplied with climate-friendly electricity. The rotor diameter is 120 meters and the tip height reaches 148 meters. The foundations are monopiles, which were installed in water depths of 21 to 32 meters. The first foundation was installed in February 2014 and the wind farm produced its first kilowatt hour in December 2014.
A total of 88 power cables with a total length of 108 kilometers (the so-called inner park cabling) transport the power from each of the 80 wind turbines initially on the 33kV AC voltage level to the wind farm's own substation. From there, the alternating current reaches the so-called converter station of the grid operator Tennet at a higher voltage level of 155 kV. In order to transport the electricity over a distance of about 200 kilometers as loss-free as possible to shore to Büttel (in Schleswig-Holstein) the alternating current in the Tennet converter station is converting back into direct current.
Germany's first offshore hotel
The two neighboring DanTysk and Sandbank wind farms benefit from a unique operating concept in the North Sea. An offshore accommodation platform, connected by a bridge to the DanTysk substation, accommodates 50 service technicians. In shifts, they provide maintenance and service work 365 days a year.
The service teams work and live on six floors. These include not only offices and bedrooms, but also workshops, canteen, gym, cinema and an on-board hospital - and of course a breathtaking view.
DanTysk is a joint venture between Vattenfall (51%) and SWM, Stadtwerke München, (49%).
More information (links open in new window)