Kentish Flats
Facts
Onshore / Offshore
Offshore
Vattenfall ownership share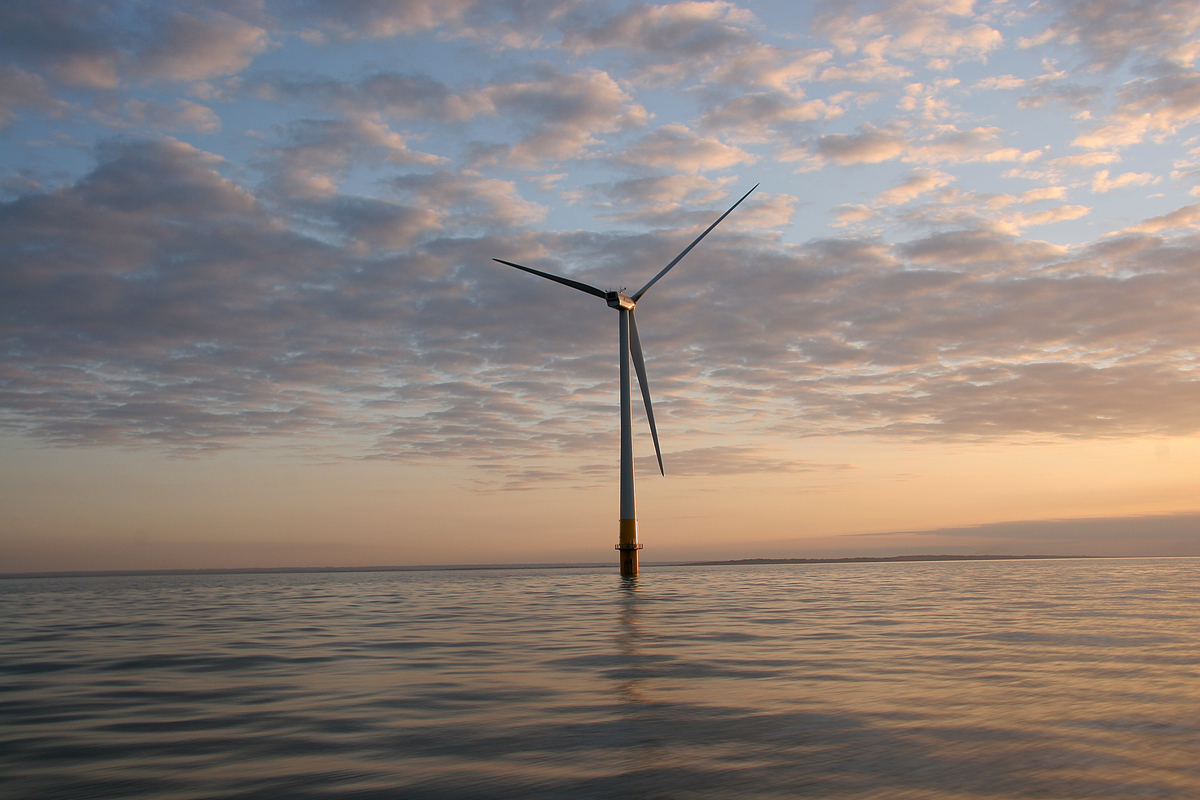 At the time of its construction, The Kentish Flats Offshore Wind Farm set a dual record. The 30-turbine project used 115 metre high wind turbines which were the largest installed in the UK. The wind farm was also, at that time, the largest in the UK with a capacity of 90 MW. Of course Thanet Offshore Wind Farm was completed in 2010 stealing the title of not only being the largest wind farm in the UK but also the largest wind farm in the world. All 100 turbines at Thanet measure the same height as those at Kentish Flats.
Political drivers for wind power
The British government has set a target that 15% of electricity shall be generated from renewable sources by the year 2015. Both onshore and offshore wind power will contribute significantly to achieving this target. Offshore wind farms are seen as having the greatest potential to help achieve these aims, with the seas off the north Kent coast identified as being the area of greatest potential for offshore wind farm development in the region. The Kentish Flats project therefore has an important role to play in helping to achieve the government's targets in relation to climate change and the commitments of the Kyoto Protocol.
Kentish Flats – site description
The site for the Kentish Flats Offshore Wind Farm is a large, flat and shallow plateau north of Herne Bay and Whitstable, approximately 60 kilometres east of central London. The wind farm is arranged in a regular grid of five rows in an east-west orientation. Each row consists of six turbines, and they occupy an area of 10 km2 just outside the main Thames shipping lanes. The spacing between each turbine and the rows of turbines is 700 metres. The site is easily accessed from the local maintenance port at Whitstable, which is only 30 minutes away by boat. The water depth is on average five metres.
Wind power characteristics and Kentish Flats electricity generation
Wind power is a non-polluting form of electricity generation, and it contributes significantly to the reduction of CO2 emissions. Placing wind turbines offshore increases the environmental gains in such a project, since offshore turbines can generate up to 25% more energy than comparable turbines onshore. The Kentish Flats project thereby makes an important contribution to the realisation of the British goal of reducing CO2 emissions.
History
Due to the weather conditions in the Thames Estuary, detailed planning was required to erect the 30 wind turbines at Kentish Flats, but the site is sheltered from strong waves by a series of sandbanks located further offshore. The installation of the foundations began in August 2004. The cable installation took place during the winter of 2004/2005 and finally the erection of the turbines started in May 2005. The entire wind farm was commissioned by the end of August 2005 and the construction and the commissioning were completed without any major incidents or accidents.
More information (links open in new window)