Stornorrfors
Facts
Vattenfall ownership share
Water information
Above pond
Below pond
Total
Through turbine
Through pond hatch
Last update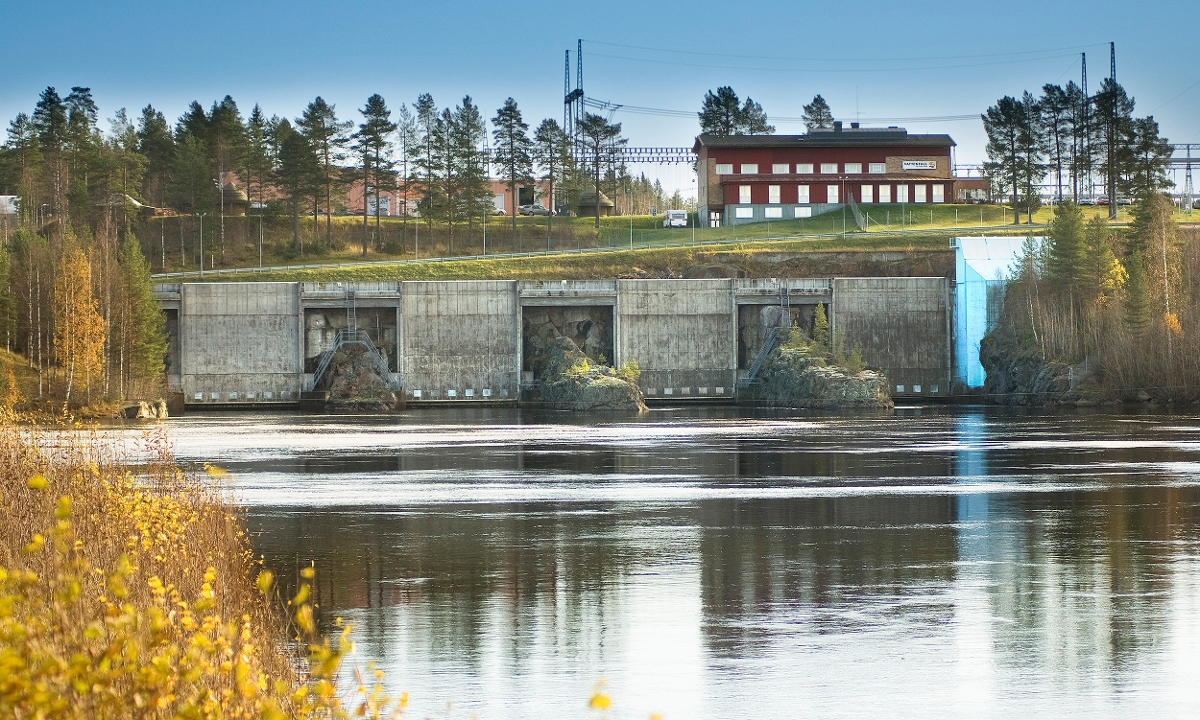 Stornorrfors generates the most electricity of all hydro plants in Sweden. Stornorrfors is the second-largest hydro power plant in Sweden, surpassed only by Harsprånget. It is beautifully situated by the Ume Älv River in the north of Sweden. Stornorrfors Hydro Power Station incorporates four turbines and was first commissioned in 1958.
Major work to increase safety
In 2007, Vattenfall began work on improving the safety of Norrforsdammen, the dam which is adjacent to the power plant. The project included the construction of a new salmon ladder, the installation of a new power plant next to the salmon ladder, a new spillway and raising the dam crest on the left-hand side of the power plant. The investment was part of Vattenfall's objective of improving the safety of its hydro power plants to enable them to cope with what is known as a 10,000 year flood, an event which is likely to occur only once every 10,000 years and which causes extremely high water levels.
In 2017-2018, Vattenfall continued its safety improvement work on the regulating dam, Tvärödammen, Tvärådammen and the main dam within the Stornorrfors dam area. This included repairing erosion protection, levelling out the dam crest and new slope filling using for instance gravel and sand. These measures guarantee the safety of Stornorrfors' fill dams in the long term.
Fish breeding
Vattenfall completed a new fish ladder adjacent to the facility in 2010. It is now one of Europe's longest fish ladders and it helps salmon swim upstream every year to reach their breeding grounds in the Vindelälven River. (Vindelälven is a tributary to the Ume Älv River, the biggest tributary river in Sweden and one of the country's four large unregulated mountain rivers).
The ladder is 300 metres long and also incorporates the option of moving smolt, or fish larvae, downstream to reach the Baltic Sea where they can grow and thrive. The option of moving smolt downstream is unique and the first of its kind in Europe.
In Sweden, power companies operating hydro power stations are obliged to breed fish to compensate for the destroyed breeding grounds as a result of river regulation. One of Vattenfall's largest fish-breeding plants is located in Norrfors, close to the Stornorrfors facility. Every year, Vattenfall releases 80,000 salmon smolt, 20,000 sea trout and 20,000 grayling. In co-operation with the Vindelälven Fish Council and the Swedish University of Agricultural Sciences, Vattenfall also analyses how the passage of fish past Stornorrfors can be improved. Furthermore, the fundamental biological and ecological relationships in the river are continuously analysed.
More information (links open in new window)